Make the best holiday memories
Book now for 2023. Read our Covid-19 statement
The new name for Hellbarn Holiday Cottages
Chideock Grange Holiday Cottages
 Discreetly concealed at the end of a leafy country lane in Dorset, Chideock Grange offers 5 comfortable self-catering cottages. Guests at Chideock Grange find a sanctuary free from the hassles of everyday life, with an opportunity to be close to the Dorset countryside, sleepy hollows and walking distance from the Jurassic Coast.
Chideock Grange is located in a designated A.O.N.B (Area of Outstanding Natural Beauty), offers a walkers paradise being served with a network of public footpaths, and a stone's throw from the South-West Coast Path. Seatown, Symondsbury, Eype, West Bay and Golden Cap are all within a ramblers' distance. The gardens of the small estate surround the 'chocolate box' thatched stone farmhouse of Chideock Grange, listed as of historic significance.
Guests are welcome to roam around these gardens, explore the small River Winniford on the edge of the estate, or simply sit back relax and unwind. A recreation and information room is provided with family table games, DVDs or books.
LEISURE TIME IS PRECIOUS, LIMITED AND FLEETING,
SECURE YOUR RESERVATION TODAY
Available
Booked
Changeover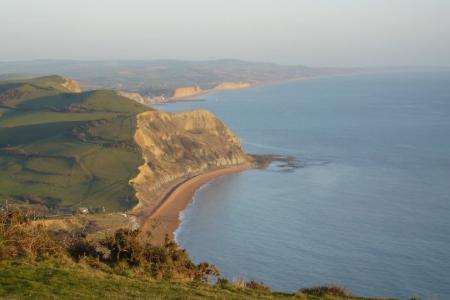 Located just outside of Bridport in the stunning Jurassic Coast region of Dorset.
Surrounded by incredible scenery and fantastic places of interest. Our gardens look out over rolling farmland, providing an attractive setting in which to relax at any time of the day.
Our comfortable and spacious self catering cottages are situated in a quiet hollow by Winniford stream. Each cottage, residing in a beautiful, converted 18th Century stone barn, is tastefully furnished and comes well-equipped with amenities to ensure a relaxed and enjoyable stay.
Offering fantastic value for money, our prices include bed linen, towels and rural strength WiFi as well as the use of our recreation room. Each cottage will receive a welcome pack featuring speciality produce from various local Dorset producers.
Stylish and charismatic Holiday Cottages
A warm welcome awaits at Chideock Grange
Strike the perfect balance of relaxation and excitement at our holiday cottages in Dorset. Enjoy the peaceful surroundings of the countryside whilst still being close enough to explore the local attractions and coastline.
The nearby towns of Bridport, Charmouth and Lyme Regis offer the opportunity to learn about the history and culture of the area. Whether it's boating and fishing at West Bay harbour, fossil hunting on Charmouth beach or hand feeding mullet at Lyme Regis Marine Aquarium, there is fun to be had for visitors of all ages.
For those looking for a bit of adventure our location is perfectly situated for enjoying the great Dorset outdoors. Nature walks, ancient holloways, delightful wildlife, brilliant beaches and the hugely popular Jurassic coast are all close by and easily accessible.
Relax and Unwind
Discover why so many of our guests return to the serene surroundings of our charming holiday cottages year after year.
Escape to the comfort & tranquillity of Chideock Grange holiday cottages
Spacious, spotless and comfortably furnished, our self catering cottages provide everything you need to relax and enjoy your vacation whilst giving you the freedom to make the space your own for the duration of your stay.
Each cottage features a well-equipped kitchen containing an electric cooker, microwave, refrigerator and washing machine, some offer washer/dryer and a dishwasher.  Most of the bathrooms are fitted with a bath and overhead shower, wash basin with shaving socket, and WC.
Whether you're trying to get away from it all and enjoy some downtime or planning to explore the local landmarks and embrace the wilderness, Chideock Grange Holiday Cottages are the perfect place to be.
I can't praise Chideock Grange Cottages enough. I had one of the nicest holidays I've ever had here over Easter. The cottages are perfectly located just outside the village of Chideock, in deep countryside at the bottom of the impressive ancient holloway Hell Lane (which leads to the lovely village of Symondsbury), only a mile or so from the lovely beach of Seatown, and a mere 3 miles from the large town of Bridport.
We are just driving home from a fantastic stay in jasmine cottage. Really quick communication with the owners from the minute we booked it and welcome on arrival. Lovely starter pack left in the kitchen of bread, milk, tea and biscuits. Lovely and clean. Warm open living space and clean airy bedrooms surrounded in the heart of Dorset countryside. We have walked lots despite the mud! Close to the George pub in Chideock (that do great oven pizzas on a Thursday) and Seatown Beach with another great pub the Anchor. Great open garden and games room with new equipment.
We were recommended Chideock Grange cottages as a good place to take our dogs. Everything about the place was lovely including the hosts. The cottage was very comfortable and well-equipped. The garden was huge and the dogs loved it too. The location was perfect – so many delightful walks right on our doorstep. There are several lovely pubs within walking distance which serve food and welcomed the dogs. We will definitely be revisiting Chideock Grange cottages!
North Chideock, Bridport. Dorset
Chideock Grange Cottages, Hell Lane, North Chideock, Bridport, Dorset, DT6 6LA
Change over days vary from cottage to cottage - normally Fridays or Mondays.
All our guests get to enjoy a weekend at Chideock Grange. Open all year